Our kiwifruit credentials
Before we were known for grafted grapevines we were known as kiwifruit pioneers. Riversun Nursery was established in response to a surge in new plantings of green kiwifruit orchards in Gisborne in the early 1980's, and was first in the world to master large scale propagation of Bounty 71 rootstock in 2011.
We have been through the highs and lows of the kiwifruit industry and have always been innovating. Kiwifruit took a back seat in the early 90s when our focus was on certified grafted grapevines. We returned to kiwifruit in 2010 and today our plants are in demand from orchards and growers all over New Zealand.
In November 2011, in response to the arrival of Psa-V in the Bay of Plenty, we were encouraged to apply to kiwifruit production our world-class expertise in plant quarantine, plant health research and virus testing (through our own accredited laboratory Linnaeus), certification, traceability and efficient nursery production.
We gained Zespri approval to propagate Bounty 71 in late 2011, and three months later had over 30,000 Bounty 71 vines growing in 5 litre planter bags. By March 2012, we had another 20,000 in 400ml bio-degradable pots.
When Psa–V hit the Gisborne region we pulled production completely until we could be absolutely sure our plants were of the highest quality. Four years and a lot of testing later, we can say with absolute confidence that our kiwifruit plants are second to none.
KIWIFRUIT PLANTS FOR SALE
Riversun grows high health potted kiwifruit plants in an under cover environment, to meet demand from New Zealand growers for certified potted plants. We offer two kinds of kiwifruit rootstock – Bruno and Bounty 71 – onto which we can graft a full range of fruiting cultivars. All our plants are certified Psa-V free to the KVH Kiwifruit Plant Certification Scheme. 
RIVERSUN FEATURES ON TVNZ's RURAL DELIVERY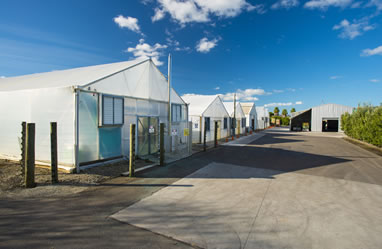 RIVERSUN KIWIFRUIT PRODUCTION FACILITIES