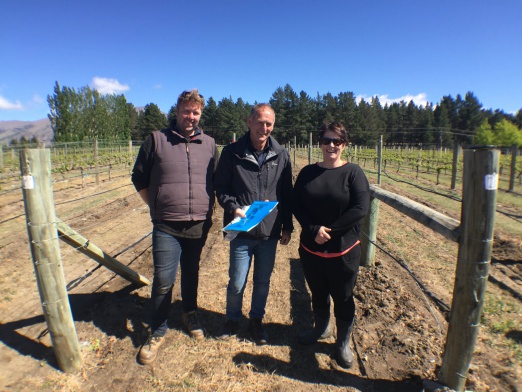 CROMWELL - As part of a joint collaboration to showcase Riversun Nursery's Pinot Noir varieties, this week Otago Polytechnic's Central campus Viticulture students are planting 240 Pinot Noir grapevines in the polytech's Cromwell vineyard.
Students on the Level 5 Diploma in Viticulture distance learning programme, gain valuable hands-on experience on the Central campus 1ha vineyard located on Bannockburn Road, Cromwell.  
With Central Otago's success in producing some of NZ's very best Pinot Noir wines, Riversun's viticulturist Nick Hoskins and Distance Education Coordinator, Rachel Petrie from the Cromwell Campus, saw an opportunity over twelve months ago to utilise four empty rows on the polytech's teaching vineyard. 
"After hearing Nick Hoskins speak at a Central Otago Winegrowers (COWA) event in October 2016, I approached Riversun to see if they were in need of any land to trial Pinot Noir clones here in Central Otago," said Rachel.
Riversun jumped at the chance to give students the opportunity to learn, while giving the company access to information on clonal performance in New Zealand's largest Pinot Noir district.
"Local growers will also be able to see how the variety acts in an Otago setting versus how it acts here in our source block in Gisborne which is a completely different climate / terroir," said Nick.
Recommending 3309 rootstock for its popularity in the New Zealand wine industry, in 2016 Riversun grafted 240 vines from a combination of twelve old and new clones including those from the ENTAV-INRA® importation programme. After ten months in the Riversun field nursery, 240 Pinot Noir traditional dormant vines were transported to Central Otago in early October this year. A further 48 two year old SuperVines will be supplied in 2018.
The Pinot Noir planting fits in with the diploma teaching programme for irrigation setup and pruning and down the track students will also be looking at yield, bunch data, brix and management.  Students are responsible for the planting and care of the vines through to the first harvest, beyond that future students will be trusted with their care.
The main aim of the collaboration is to forge long term partnerships between education and industry by connecting future employers, growers and viticulturists with future talent.
The vineyard is often a location for COWA (Central Otago Winegrowers Association) workshops and events including the young viticulturist competition and there are discussions around opportunities to develop clone comparison trials, small batch tastings and local grower field days in the future.
Click here for more information on Riversun Nursery's Pinot Noir varieties.