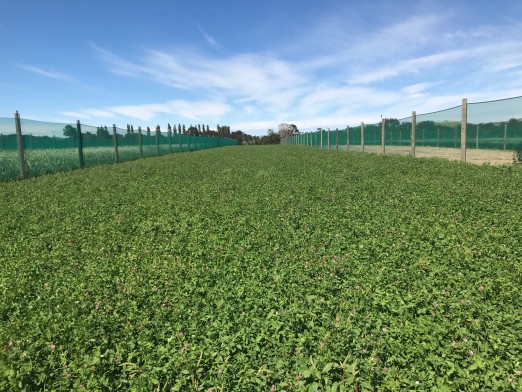 Five years ago Gisborne nursery Riversun set itself the goal of being "truly sustainable" by the year 2020, and as that audacious deadline fast approaches, managing director Geoff Thorpe talks about what it all means.
IT has been nearly 25 years since the phrase "Big, Hairy, Audacious Goal (BHAG)" was coined as a strategy for visionary companies and nearly as long since Gisborne plantsman Geoff Thorpe set his own . . . to produce the highest quality grafted grapevines in the world - and be able to prove it!

With his Riversun Nursery he has done that, albeit with some fairly hairy obstacles to tackle along the way, including navigating the Global Financial Crisis and the wine industries Savalance of 2008-12.

And now Thorpe is focused on meeting the next monster BHAG on his list.

Formalised in 2013, the aim to make Riversun truly sustainable by 2020 is an audacious goal indeed and, as such, informs just about every decision Thorpe and the Riversun team makes.

But rather than being overly prescriptive, he says it actually makes life easier.

"Whatever you are looking at, we ask ourselves 'is this taking us closer to our goal or further away?', and that does a lot of the decision-making for you," he says.

"Sometimes you may have to take a detour for a while but you are always working with that end-goal in mind. It's an amazing thing to inspire our people and give everyone a focus."

With its sustainability programme, entitled Toitū 2020, the mantra is "take care of the land, and the land will take care of you".

It's a view Thorpe has held since he first started Riversun back in 1982 but, this time, he's looking wider than "the whole organic, biodynamics thing".

Riversun was already focusing in on those approaches to growing when the business took off again after the trials of the GFC but, according to Thorpe, a changing world means that's just not enough.

"They don't always encompass things like energy consumption and waste stream management,which is why we now operate under the larger banner of 'Truly Sustainable'," he says.

"For many people the term sustainability is a problematic one, given it has been hard to clearly define and is often hijacked by companies wanting to 'greenwash' their image. To resolve that conundrum, we have come up with our own reverse engineering definition - 'If we can't keep doing the same thing on the same land, in the same community and on the same planet in 100 years and in 1000 years, then it is NOT sustainable'."

And neither does it mean going back to what he calls 'the Clydesdale days': harnessing the power of science and technology is a big part of Toitū 2020 and this is mostly provided by Riversun's sister company Linnaeus Laboratory.

Being a multi-million-dollar operation does, of course, give Riversun some advantages. For example, Thorpe consults with internationally recognised soil scientists, molecular biologists, ecologists and the like to offer advice; he's trialling mini-helicopters and drones to spray crops; and when he wanted a sustainable frost protection solution for the company's Whatatutu field nursery, he constructed a twenty million litre storage dam.

But he is adamant that, even on a smaller scale, operating sustainably offers significant financial benefits.
A case in point: Riversun rests its field nursery sites every third year, spending the 'off' year growing leguminous green crops like red clover which can generate enough nitrogen to get through the next two years of followup nursery crops without any additional fertiliser. That can save the company many tens of thousands of dollars every year.
Green crops are also planted between vine rows in their 25 hectare rootstock and scionwood production block so they can be side-throw mowed both to serve as mulch (to save on costly weed control and irrigation), and to contribute organic matter to the soil.
And another cost-saving measure was discovered when Thorpe was looking for a way to reduce compaction of that all-important soil. After considering a number of options, including using very high tech multi-row machinery, he's now trialing a super-lightweight, low-tech Oggun tractor which, even when customised to suit his needs, can be delivered for a quarter of the price of a conventional machine.
There are plenty of ideas out there and Thorpe believes the key is not just to 'adopt' them, but to think them through very carefully, trial over a number of seasons and eventually 'adapt' practices to meet your specific needs.
"We often hear about new businesses that just adopt radical new ideas and we know they are 'new' because, without repeated trials and adaptation, that's a quick way to go out of business," he says. "There is no need to reinvent the wheel, but you do have to make sure the wheel you borrow is fit for purpose." Since 2013 Riversun has managed to eliminate herbicides, synthetic fertilisers and non-organic fungicides from its large scale field nursery operation.
Geoff Thorpe describes Toitū 2020 as a journey and it is not without its challenges, a particularly vexing one being what to do with the 200 kilometres of black polymulch film his company uses every year to create raised planting beds to warm the soil, retain water and suppress weeds.
It is a problem in that, not only is the polymulch not currently recyclable, but also during the summer months the heat it generates 'cooks' the few centimetres of soil directly underneath, destroying the vital micro-biome.
And while he's spent the last three years testing the option of growing, baling, pasteurising and spreading straw mulch, it would require 60,000 conventional to mulch the whole operation. Latest trials show, whilst absolutely doable, it is unlikely to be cost effective. However, he is confident they have another sustainable solution which is looking very promising and will hopefully roll into the operation by 2020.
"The aim of sustainability has to go right across from soil and plant health to looking after the environment, the people and, of course, the business itself," he says. "If it's not a holistic approach, then it is just not going to work."
But while he's chewing that one over, the march towards Toitū 2020 continues.
To illustrate just why he is doing what he is doing, Thorpe quotes Australian scientist Professor Tim Flannery's assertion that to help urgently reduce atmospheric CO2 levels, we need to rebuild global soil organic matter levels to 10% or more. This is apparently one of the biggest and most cost effective carbon sinks available to us if we can just figure out how to change our farming practices in the appropriate ways.
Respectful soil management practices have allowed Riversun to maintain its soil organic matter levels very close to 10 percent over the last ten years but, Thorpe says, there are places on the Poverty Bay Flats where the level is just 2-3%.
It is, he says, a matter of urgency and one he believes land-users will be measured on in the not-too-distant future.
"We are already at the point where every grower, every user of more than two hectares of land, will soon have to submit an annual Farm Environment Plans to ensure they are not contributing to degradation of our waterways and aquifers through excessive fertiliser use. Post the Paris Accord, I would not be surprised if annual monitoring of soil organic matter levels is that far behind - I certainly hope so!" he says.
"Riversun is committed to Toitū 2020 because it is part of our vision for our future.
"The message we hope to share is that working towards sustainability is not scary, it's not too hard and its actually good everyone - our staff, our bottom line, our environment, our communities and our planet".

Toitū 2020: steps to sustainability
Working across the key areas of earth, water, air and fire (solar energy), Riversun Nursery has set itself the "Big, Hairy, Audacious Goal" of being truly sustainable by 2020. Some of the measures it has taken are:
Applying organic and biodynamic practices to ensure that everything that goes onto the soil is good for the soil.
Replace all synthetic herbicides, fertilisers and fungicides once used in their field nurseries with organic alternatives.
In an effort to reduce the use of polythene mulch film, the company has been experimenting with steam-pasteurised oat straw which, as well as conserving moisture and suppressing nearly all weed growth, adds vital organic matter to the soil.
Growing green crops between nursery rows then side throw-mowing – to disperse the vegetation under the vines – also provides mulch as well as attracting beneficial insects and aerating compacted soil, "not to mention feeding the worms and other goodies that make up our soil microbiome".
Hydro-seeding at the base of shelter-belts produces a carpet of alyssum which acts as a (particularly pretty and fragrant) drought-tolerant weed suppressant and beneficial insect magnet.
The help of technology like 'pressure bomb' instruments to facilitate diligent irrigation management helps conserve resources.
Riversun ensures that all waste plant material – more than 500 cubic metres a season – is used to create a rich compost which it returns to its fields.
Minimising soil compaction wherever possible, for example, through trials of new machinery like the of super-lightweight (and cost effective) Oggun tractors.
'Resting' its field nursery land every third year, using the down-time to grow and disc-in leguminous green crops to supply nitrogen, build soil structure and maintain a healthy 10 percent of organic matter in the soil.
To protect waterways and reduce its carbon footprint, the company has riparian plantings of over 20,000 native trees and shrubs, a number it expects to reach 50,000 by 2020.
To encourage and support bees, Riversun has over the years planted over five kilometres of lavender and rosemary hedges in its field nursery and source blocks.

Organic approach to warding off approaching army
"If there's anything that will put the wind up a grower it's the approach of an army of marauding pests, but there are ways to manage it holistically", says Geoff Thorpe.

Alerted in mid-February about sightings in the Bay of Plenty, the team at Thorpe's Riversun Nursery scouted around their field nurseries and found low numbers of tropical armyworm caterpillars – Spodoptera litura (Fabricius) – lurking in a green manure crop.

But with Riversun's commitment to sustainability – including, but not confined to organic and biodynamic practices – hitting the caterpillars with a big, chemical gun was not an option.

Rather, vigilance was the key, Thorpe says, along with quick action in discing in the green crop and applying a biological control spray over the nursery as a precautionary measure.

However, The Gisborne Herald reports that a neighbouring grower at Whatatutu wasn't so lucky . . . by early March the caterpillars had got away on him and in just 48 hours had demolished an entire paddock of brassica.

Plantsmanship in the DNA
Geoff Thorpe says growing is in his DNA: though his father Jack went to Gisborne in the 1950s to join his brothers in starting Columbine Hosiery, he retired in his mid 50's to establish the region's first large-scale kiwifruit orchard.

Because of that, by the time he'd headed to Lincoln University in 1977 to study for a degree in horticultural commerce, Thorpe Jnr had already spent a couple of years developing new vineyards and orchards with his dad.

In the early 1980s he set up a "backyard" nursery on a family owned kiwifruit orchard at Patutahi where he grew some kiwifruit and avocado plants. This sideline to his full-time kiwifruit manager job generated the funds for him and his first wife Kris to start Riversun in 1982. He went on to win the Wrightson Young Orchardist competition in 1985 and then, in 1989, he and Kris and good friend Tim Bell established Gisborne garden centre Touchstone.

In 1998 Geoff married Anna and that same year exited all other business activities to focus 100% on the grapevine nursery part of the business. This was when he landed on his first BHAG.

What followed was "pretty damn big and hairy!"- in 1999, launching the industries first vine certification programme in 2000, opening NZ's first privately run Level 3 Quarantine facility in 2003, all the while growing production volumes 50% every year. Challenges like the Global Financial Crisis and the PSA scare (affecting the kiwifruit arm of the business) all took their toll but he says establishing Linnaeus Laboratory was a game changer for them. The commitment to science and innovation has allowed Riversun to not just survive through thick and thin, but thrive.

Through that commitment, Geoff Thorpe has been able to introduce 120 new varieties and clones to the New Zealand wine industry over the last decade, as well as a dozen new avocado varieties and rootstocks.

As an acknowledgment of that contribution, he was in 2017 made an Officer of New Zealand Order of Merit for his services to the wine industry.