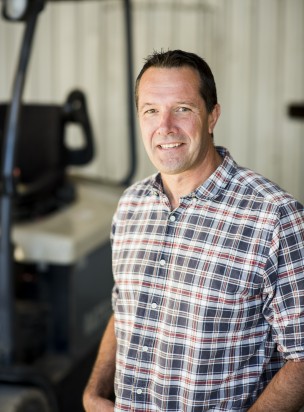 The humble 'shed' at Riversun is where all the grafting, treating and grading happens. This is Dean Story's domain - as Production Facilities Manager his role encompasses managing the processing of root stock and scion wood, grafting and grading.
It's a cyclic process that sees production facilities staff increase from a few to a seasonal crew of 130 people in the peak period from June to December.
"It's like a freight train for half the year in here – everything needs to be planted before Christmas and timing is everything," Dean says. Central to the job is maintaining quality and traceability at every step.
"It's a very challenging role involving managing people as well as processes, which is what makes it so good."
Dean's had his fair share of challenging roles, including 16 years in the police,
5 years managing a supermarket in Wellington, and working for the Ministry of Primary Industries on the Emissions Trading Scheme.
While horticulture is new ground, the sustainable approach that Geoff has built Riversun upon chimes with Dean's values. "I like where Geoff is going with the sustainability focus. Environmental issues are important to me and it's a source of job satisfaction to be working in a place where people are likeminded."
Returning to Gisborne was something of a homecoming for Dean, who enjoys sharing the beach lifestyle of his childhood with his three daughters.
CONTACT
dean@riversun.co.nz
0800 11 37 47
027 234 8961