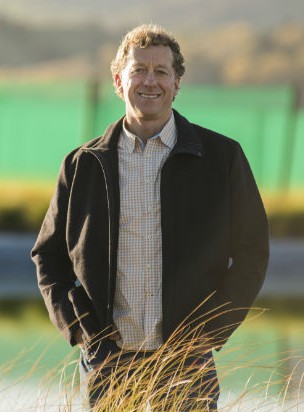 Geoff's "passion for growing things" has been the driving force behind Riversun which started as a Gisborne based "backyard" nursery in 1981 growing kiwifruit and avocado plants. His tireless focus on plant health and quality has seen Riversun evolve from a small local business into the leading supplier of premium grafted grapevines to the New Zealand wine industry and large scale propagator of high health avocado trees and kiwifruit vines for North Island orchardists.

As a teenager, Geoff found inspiration working on his father's orchard and vineyard developments, which led him to pursue a degree in Horticultural Commerce at Lincoln University. He credits winning the Wrightson "Young Orchardist" award in 1985 as a real turning point, since the prize enabled him to embark on a study tour of European horticulture. Geoff returned home brimming with new plans and procedures for plant hygiene, propagation and mechanisation.

Following a term as chairman of the New Zealand Grape Vine Improvement Group's certification committee and numerous research tours overseas, in 1998 Geoff initiated an independent certification system for Riversun's grafted grapevine business.

In 1999 he launched Linnaeus Laboratory so that Riversun could have access to a world class, independently audited grapevine virus testing service. Today Linnaeus employs ten full time staff, manages all of Riversun's in-house research, conducts contract research for the likes of New Zealand Winegrowers and Zespri and provides a wide range of environmental testing services to the Gisborne/ East Coast region.

Between 2003 and 2009 Geoff ventured into plant importation setting up a MPI accredited Level 3 quarantine facility to import 120 of the world's best grapevine varieties and clones sourced from all around the world. In 2005 Riversun also joined forces with the Avocado Industry Council (AIC) to import several exciting new varieties of avocados, including the "step change" rootstocks Dusa and Bounty. Today Riversun is one of a very small number of nurseries in the world working in the highly technical area of clonal avocado propagation.

In 2011 Geoff pioneered the large scale propagation of the exciting new kiwifruit rootstock variety Bounty 71 - another world first for Riversun. Working closely with key clients, he has also driven the move in the New Zealand kiwifruit orchard industry towards summer planting of container grown grafted kiwifruit vines.

Geoff is the Vice Chair of the NZ Plant Producers Incorporated  (NZPPI) Board, representing the NZ orchard and vine nursery sector. In the 2017 New Year Honours Geoff was made an Officer of The New Zealand Order of Merit (ONZM) for services to the wine industry. He was also made a Fellow of NZ Winegrowers at the 2017 Air NZ Wine Awards in recognition of his dedication to the improvement of the quality of vineyard planting material.
CONTACT
0800 11 37 47