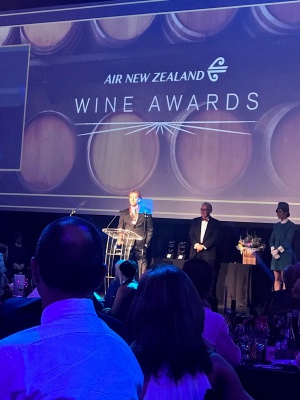 Founder and Managing Director Geoff Thorpe was honoured at the Air New Zealand Wine Awards on Saturday 25th November for his outstanding service to the NZ wine industry over the last 35 years. He was made a Fellow of NZ Winegrowers in recognition of his tireless dedication to the improvement of the quality of vineyard planting material - through the development of world class independently audited certification programmes for grafted grapevines, the rescuing of New Zealand's germplasm collections, importation of over 120 new grapevine varieties and clones from all around the world and the establishment of Linnaeus Laboratory to provide an extensive vine health testing programme to the wider industry.
Geoff says he felt incredibly honoured and humbled to be awarded this very generous accolade alongside three other stalwarts of the NZ wine industry - Joe Babich (founder of Babich Wines), Bill Spence (co-founder of Matua Wines and the first to plant Sauvignon Blanc in NZ) and Lorraine Rudeji (for 37 years of unparalleled service to NZ Winegrowers).
Read the full story in The Gisborne Herald here.