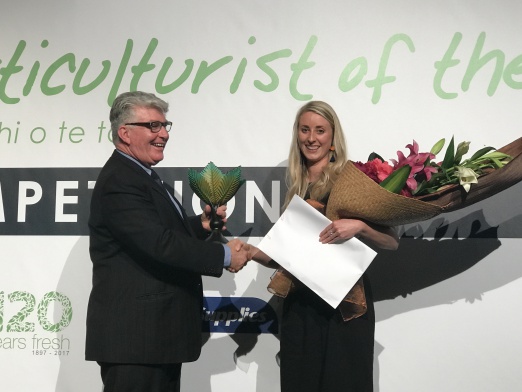 After winning the New Zealand Plant Producers annual "Young Achievers Award" in July this year, Linnaeus Deputy Lab Manager Shanna Hickling went on to represent the nursery and garden industry winning the title of 2017 "Young Horticulturist of the Year" at the competition finale in Auckland on 16th November.
The annual competition brings together young people from all sectors of horticulture (orchard, viticulture, plant production and amenity) to compete for the title and a prize pool of over $40,000. The aim is to identify and develop the next generation of leaders in the Horticulture industry, fostering and encouraging leadership capability.
Shanna has spent the past 5 months in the lead up to the Young Horticulture competition completing a range of tasks and projects including a community engagement submission, a career development plan and development of an innovative product or idea. With the garden and nursery sector estimated to produce 200 million container plants, in her innovation project, Shanna identified an opportunity for the 'SureMix' sampler – a tool designed and built (to prototype) for quick, easy and representative media sampling from potted plants.
The last two days of the competition, leading up to the awards night saw the competitors run through practical components and activities on day one and business components on day two including interviews with judges.
As well as a lucrative pool of prizes including a $7,500 travel and accommodation package, Shanna says "connections I've made from the competition are going to last a lifetime".
Raised on a sheep farm just outside of Gisborne, Shanna, has a Bachelor of Science degree with a double major in microbiology and genetics from Massey University, graduating in 2014. She has worked for Linnaeus, the diagnostics division of Riversun for the past four years starting out as a graduate, progressing to project manage the research department and learning the 'ins' and 'outs' of the environmental testing department. Her current role as deputy laboratory manager provides support to the team to deliver timely results to the horticulture industry, as the lab expands its testing capabilities.
Riversun Managing Director, Geoff Thorpe recalls the first interview with Shanna over three years ago and says, "when I first met Shanna I was immediately impressed with her positive can-do attitude as well as her adaptability and flexibility. She has the passion for excellence Riversun strives for and I have no doubt she will play an important leadership role in the future of horticulture".
Read more about the competition here.